International CIPS Course

THE NATIONAL ASSOCIATION OF REAL ESTATE OFFICES OF SLOVAKIA (NARKS)
in cooperation with
AUSTRIAN ASSOCIATION OF REAL ESTATE EXPERTS (OVI) and
ASSOCIATION OF REAL ESTATE AGENCIES IN CZECH REPUBLIC (ARK)
invite real estate agents to        
Certified International Property Specialist course by National Association of REALTORS®
25 – 29 November 2015
Tatra Hotel, Bratislava, Slovakia
International real estate opportunities are everywhere and no matter which international audience you cater to. The CIPS 5-day course provides you with very important credentials, knowledge, research, network and tools to globalize your business.
The CIPS course curriculum is the educational foundation of the CIPS Network. The CIPS course curriculum offers you hands-on experience with international real estate transactions, as well as five full days of study focusing on the critical aspects of transnational transactions, including:
Benefits of Having the CIPS Designation
:: Market yourself as a CIPS Designee Offer international real estate expertise to diverse International communities in your local market
:: Exclusive network of over 2800 CIPS members in 50 countries
Benefits of Attending the CIPS Course in Bratislava
:: Understand the resources and reach of the CIPS network
:: Gain an understanding of the global marketplace
:: Learn how to analyze and apply market data
:: Develop skills to facilitate global transactions
:: Explore dynamic growing and visitor friendly city in the heart of Europe
:: Possibility to attend NARKS Conference and meet the guests from all over the Europe at the gala
>>>   Download the full information on the CIPS course in Bratislava in PDF <<<
International CIPS Instructor

Duties of the course participants
:: Be physically present for the entire program from beginning to end
:: Sign any/all morning or afternoon attendance sheets
:: Refrain from using cell phone except during designated break times
NARKS will provide information regarding the room and board to all attendants.
Room and board are not included into course fee.
Special disabilities accommodated with advance notice.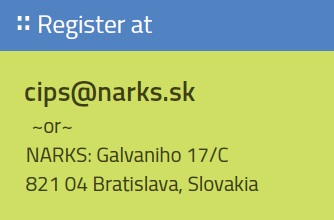 Cancellations/No-Shows:
A fee of 25 percent will be assessed for cancellations received within 10 days of course date.
Please submit all refund requests and/or cancellation notices via:
Phone: +421 948 344 332 or
E-mail: cips@narks.sk